Overview
The FA system is very flexible in the way it can handle sales, from complete integration with a manufacturing process to just issuing invoices.
You can use the complete sales process or just the steps you require depending on your operation. The menu options below are annotated with suggestions as to which Department would use them.
Complex Sales Process
Set up a Quotation
Convert Quotation to a Sales Order
Despatch the goods
Print Invoice
Intermediate Sales Process
Despatch the goods
Print Invoice
Simple Sales Process
Also available
Typical customer service process:
Invoicing Notes
When printing Invoices from print-out center, you can select to include a Paypal link.
If you want to be paid by credit card, then create a bank account with the name of the credit card.
Configure invoice print layout.
Before invoicing service type items to customers, the service items must be explicitly added to the list of items as such.
Legal Text is available only in Invoice and not in Order Entry form.
Scenario: Customer just walks in, buys the items by paying the cash.
Set up a cash customer with a cash branch
In the branch, select a cash account as Account Receivable Account
Set the Payment Terms on the cash customer to 0 days
All the statistics are now available for it too now
Don't forget to set up: Setup -> POS setup -> Cash Account
Prepayment terms are not available in Direct Invoice form.
If they are on your setup, you have badly defined prepayment terms.
To issue invoice in prepayment mode:

Enter Sales Order first,
Then enter received payment
Finally issue invoice against the payment in Invoice Prepaid Orders screen.
Prepayment invoices are maintained in this special procedure, as what is invoiced here exactly, is payment received, not the goods sold.
Prepaid Sales and Purchases are now available in FA 2.4.x but use with care - Forum Post.
doctext.inc has the label for the Item Code field that can be replaced with a blank string.
The appropriate report (like rep107.php) can be edited for where the Item Code line prints and can be placed in the appropriate company/#/reporting folder.
When we choose to offer an Service item (does not affect inventory) for free but would like to see the unit rate and qty in the printed invoice we need to enter the discount as a separate line item with negative rate to indicate the discount.
Sample Invoice entry for 100% Discount: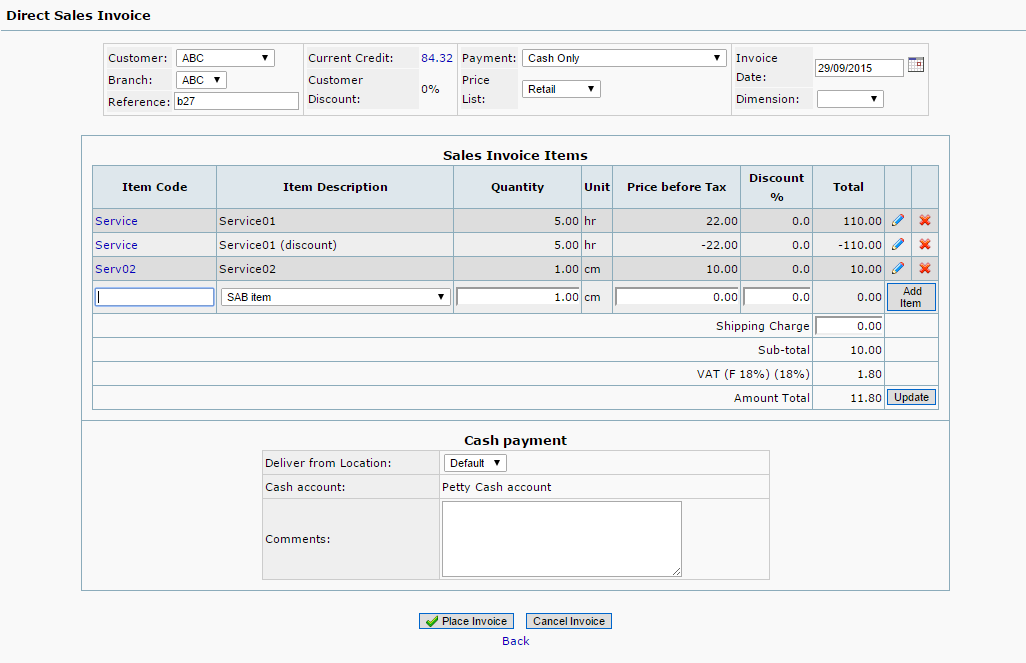 Print Invoice of above 100% Discount entry: