Purpose
A customer must have one customer branch in order to issue sales and / or delivery orders. If your customer is a business (instead of a person) then that business may have several branches each with a different address. If your customer is an individual then it is likely they do not have multiple branches. For an individual you still need to enter a default branch in order to issue a sale.
Procedure
Sales -> Add and Manage Customers -> Sedi Cliente add or edit
Sales -> Customer Branches -> Update (to make sure that each customer has at least one branch)
set parameters:

Sales Person - the list can be maintained in Sales -> Venditori
Sales Area - the list can be maintained in Sales -> Aree di Vendita
Sales Group - the list can be maintained in Sales -> Gruppi di Vendita
Default Inventory Location - the list can be maintained in Items and Inventory -> InventoryLocations
Default Shipping Company - the list can be maintained in Items and Setup -> ShippingCompany
Tax Group - the list can be maintained in Items and Setup -> Tax Groups
Sales Account - set to Use Item Sales Accounts
Sales Discount Account - select an account to post discounts on sales invoices
Accounts Receivable Account - select an account to post receivables; default account can be set in Setup -> System and General GL Setup
If the Mailing Address on the branch is set then this address is used for delivery for credit deliveries/orders/invoices.
For cash sales the customers address is used.
Contacts.

Here are the rules for emailing contacts in Customers, Branches and Suppliers. Each item is referring to a Contact Category.
- 'invoice' for invoices, and statement and receipts
- 'delivery' for deliveries
- 'order' for orders and quotations
- 'general' for everything

EVERY reports will send an email to everybody from the current and the main company will match those criteria except for statement and receipts.
Example the invoice report will send an email to (if existing) - branch.invoice - branch.general - customer.invoice - customer.general.
For statement and receipt only the first person (in that order) will receive the email.
So, a contact set as general on the customer settings, will receive every emails except from statement and receipt (except if nobody else get this email).
To summarize, general mean all and customers receive email for every branch.
Tips and Tricks
Deleting a customer branch
If you entered a document for a customer branch you can't delete it anymore. Set Disable this Branch to Yes instead.
For individual customer named 'Bob', enter a branch name such as 'Bob's Home', or 'Bob's Workplace'.
Click on the link to change branch settings: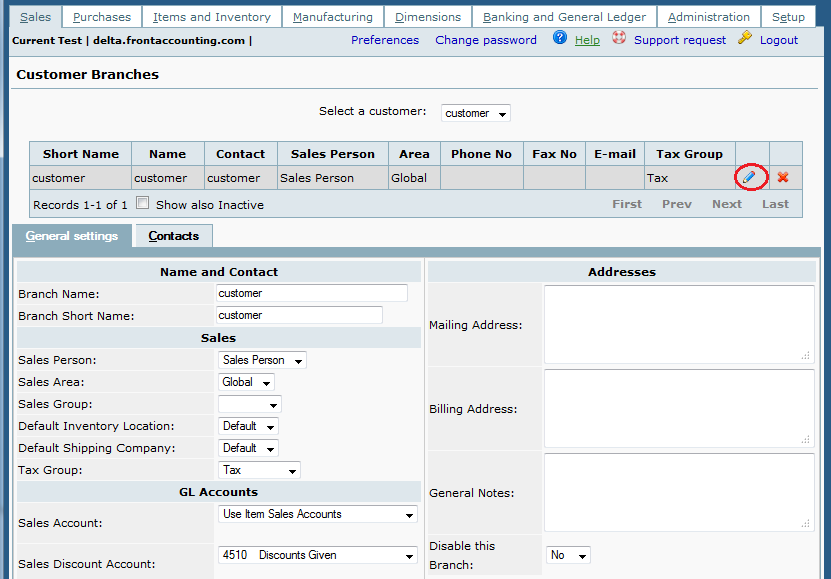 Obiettivo
Per poter effettuare vendite e/o ordini di consegna intestati ad un cliente, questo deve disporre di una propria sede. Se il cliente è un azienda potrà anche avere più sedi operative, ciascuna con un recapito distinto, mentre se si tratta di un privato è improbabile che ne abbia più d'una. Ma anche per i privati è necessario fornire i dati di una sede predefinita per poter effettuare vendite a lui intestate.
Procedura
Accertatevi che ogni cliente disponga di almeno una sede, e in caso negativo createne una. Per far ciò:
In Vendite->Aggiungi e Gestisci Clienti selezionate il cliente
Cliccate il link Aggiungi o modifica corrispondente alla voce Sedi Cliente
Cliccate l'icona Modifica o aggiungete i dati di una nuova sede
Impostate i parametri:

Rappresentante – l'elenco viene gestito in Vendite->Rappresentanti
Area di Vendita – l'elenco viene gestito in Vendite->Aree di Vendita
Gruppo di Vendita – l'elenco viene gestito in Vendite->Gruppi di Vendita
Sede Magazzino Predefinita – l'elenco viene gestito in Articoli e Inventario->Sedi Magazzino
Ditta di Spedizioni Predefinita – l'elenco viene gestito in Impostazioni->Ditte di Spedizione
Gruppo di Tassazione – l'elenco viene gestitio in Impostazioni->Gruppi di Tassazione
Conto Vendite – impostare a Usa i conti vendite articolo
Conto Sconti Vendite – impostare un conto cui assegnare gli sconti operati sulle fatture di vendita
Conto Crediti – selezionare un conto cui assegnare i crediti; il conto predefinito si può impostare in Impostazioni->Impostazioni di Sistema e di Contabilità Generale.
Se l'indirizzo postale della sede è impostato sarà questo ad essere usato per le consegne e la spedizione di note di consegna/ordini/fatture.
Per le vendite per contanti verrà usato l'indirizzo del cliente.
Contatti
Nella scheda Contatti viene gestito l'elenco dei contatti relativi al cliente selezionato.
Di seguito, ecco le regole per l'invio di rapporti via email ai contatti impostati nelle schede Clienti, Sedi e Fornitori. Ogni contatto fa riferimento ad una Categoria Contatti:
- 'invoice' regola l'invio di fatture, rendiconti e ricevute
- 'delivery' le consegne
- 'order' gli ordini e i preventivi
- 'generale' regola l'invio di tutti i tipi di rapporti

Per OGNI rapporto generato verrà inviata un'email a tutti quei contatti che, nella sede corrente e nell'azienda principale, corrispondono a queste categorie, con l'eccezione di rendiconti e ricevute.
Ad esempio, un report di tipo fatture verrà inviato via email ai contatti (qualora esistano):
- sede.invoice - sede.general - cliente.invoice - cliente.general.
Per rendiconti e ricevute sarà solo la prima persona (nell'ordine dato) a ricevere l'email.
Per cui, un contatto impostato come general nelle impostazioni cliente, riceverà tutte le email tranne quelle relative a rendiconti e ricevute (a patto che nessun altro riceva quell'email).
Riassumendo, general riceve tutti i rapporti mentre cliente riceve le email relative a ogni sede.
Suggerimenti e Trucchi
Cancellazione di una sede cliente
Se avete inserito un documento relativo ad una sede del cliente non potete più cancellarla. In alternativa potete impostare a Sì l'opzione Disabilita questa sede.
Per clienti privati di nome 'Bob', create una sede come 'Casa di Bob', oppure 'Luogo di lavoro di Bob'.
Cliccate sul link evidenziato per modificare le impostazioni della sede: