Welcome to our Web Site. Our speciality is Accounting systems for small companies and our popular web based FrontAccounting is a simple, but powerful, system for the entire ERP chain and covers:
Purchase Orders
Goods Receivable Notes
Supplier Invoices/Credit Notes
Payments
Allocations
Accounts Payable
Items and Inventory
Stock
Manufacturing
Fixed Asset

Sales Orders
Customer Invoices/Credit Notes
Deposits
Allocations
Accounts Receivable
Dimensions
General Ledger with Budget
Languages
Currencies
Several Companies
Demo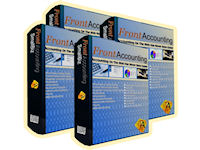 The databases can be placed anywhere in the world and can be reached from everywhere.
FrontAccounting is free and released under the GNU General Public License.
username: demouser, password: password
For demo 2.4 there is a demo company, Training Co., where you can try for yourself.
Various Videos about FrontAccounting can be seen here.
Dashboard

Journal Entry
An intuitive registration form, Journal Entry, can be used to enter specific transactions. You can use up to two dimensions per transaction to keep track of e.g. cost centres, departments, projects or whatever you define it to be. Every transaction line can have its own memo, as well as the complete voucher. At every time a Jornal Entry is in balance, it can be saved.

Intelligent Journal Entry. The chart of accounts follow your keyboard entries.